It was afternoon, 14th September 2022 and I was refreshing my mailbox continuously for any new emails. I was at my workplace and wasn't even able to focus on the task at my hand, for it was almost over 24 hours and I haven't received any result for the exam which I had prepared so rigorously for the past two weeks and gave the day before.
Finally at around 3:00 PM, when I had almost forced my mind out of my phone I received a mail from Credly; notifying me of the new badge I had received – the beautiful AWS Certified Developer Associate badge in its magnificent blue color.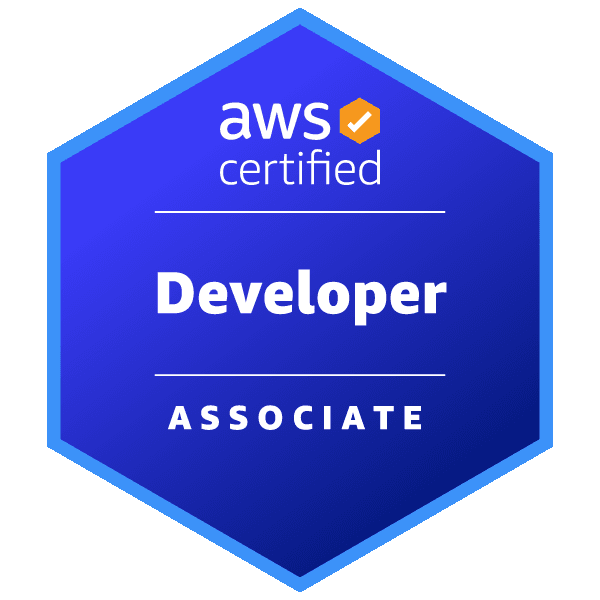 Almost instantly I logged into my Certimetrics account to look for my scorecard and certificate. They were now available, for I was not able to see any available scores when checked before.
Looking at the scorecard and the certificate that officially put me among the other cloud enthusiasts and aspirants who have finally cracked one of the toughest AWS Associate certification exams out there, I was greatly satisfied and was almost on tears; for that much how tensed I was about the result.
Score wasn't that important, but it pleased me greatly – it was a clean 890/1000. I rushed immediately to my desk to have a neat view of my certificate and the badge, and what followed were some of the best times I had in recent times.
That was a typical outlook of how I was when I received my score – greatly satisfied and happy! I know I have deviated alot from the original purpose of this article, but let me tell you – cracking something that you always wished for, is always greatly satisfying.
Let me comeback to the essential part of this article; I wanted to share with you about how I was able to clear my exam in 2 weeks time and how I had prepared for it.
How I cleared my AWS Developer Associate (DVA-C01) Exam
Let me start with a confession – I worked with AWS Cloud in my previous role for around 1-2 years, where I got a good deal of hands-on experience on services like Cognito, Lambda, DynamoDB, S3 and Cloud Formation which certainly gave me a little edge in terms of understanding the concepts faster.
Having said that, the exam syllabus focuses a lot deeper than what I had learnt during my role and it was a great learning experience for me.
What are covered by AWS Developer Associate Certification?
AWS Developer Associate certification enables developers to gain deep knowledge and work with most of the AWS Services such as EC2, Elastic Beanstalk, RDS, Serverless such as Lambda, DynamoDB, SQS, SNS, Cognito and so on.
The syllabus for the certification focuses on five domains –
| | |
| --- | --- |
| Deployment | 22% |
| Security | 26% |
| Development with AWS Services | 30% |
| Refactoring | 10% |
| Monitoring and Troubleshooting | 12% |
DVA-C01 Exam domains and their weightage in questions
What makes this certification different from the other Associate level certifications is that it expects the takers to be able to integrate AWS services in their applications via APIs, SDKs and CLIs. So, it is expected that you must also understand how to integrate the services into your application and be aware of the APIs and CLI commands to some extent.
From the exam experience, I can say that it doesn't ask you definite questions – although there are definite quiz kind of questions to some extent – but it also has some scenario based questions which requires you to pick the most efficient and cost effective solution among the options given.
So, How did I prepare for it?
Although I had decided to take up this exam at the beginning of this year, I was kind of on and off in my resolve; so I kept on postponing my plan. Finally I decided to get serious in August, and planned accordingly.
I picked up the following for my preparation, which I highly recommend you to do as well –
To be honest, once you complete AWS Developer Associate Udemy course by Stephane Maarek you'd be mostly overwhelmed with all the information that you might feel like you can't make it. But trust me, the course makes the exam look a lot easier. The course is around 32 hours in duration, so I tried to finish off the course in a week by taking in as much as I can in a day.
Once the course is complete, I felt a bit satisfied because it covers almost all the concepts required for the exam and what's more, it highlights some of the concepts which have a very probability of appearing in the exam.
It also creates another question, am I ready for the exam? This is where the practice tests help.
Use Practice Tests Cleverly
I used AWS Developer Associate Practice tests by Stephane Maarek for practice.
This one had 6 tests in total, and adding the practice test that comes with the Udemy course I have a total of 7 tests to be taken. The questions in these practice tests were alot similar to the questions that appeared in the exam, and the difficulty was a bit harder than the exam questions; which makes us feel ready for a couple of random hard questions as well.
Frankly speaking I failed the first two tests, which made me feel nervous like crazy. Honestly, with the actual exam scheduled in around 10 days and you failing the first two practice exams really builds up the pressure. But instead of submitting to the stress, I tried to force myself to instead go through each and every question and go through the options and understand why the option was marked as answer.
This helped me fill in the gaps and make notes on the small concepts which may have missed during the course. I did this for all the 7 tests even for the next 5 tests which I passed with great scores.
Keep this in mind, you are writing these mock tests to
make yourself comfortable with the format and
find out where you stand and get better at the missing pieces.
These tests got nothing to do with the actual exam score and failing these doesn't mean you're gonna fail the actual test.
After I completed writing all the 7 practice tests for once, I retook the failed tests and tried to answer the questions with a blank mind without trying to memorize the answers. For every question, I tried to read it carefully and then understand why I need to mark a particular option as answer. By the end, I have written 9 exams in total.
Cheat sheets and Exam Readiness
This brings me to the last two materials I used – Tutorials Dojo AWS Cheatsheets has all the information about each and every service of AWS that comes in the exam in a simple summary format.
I skimmed through the services which I didn't get a chance to work on – ECS, SQS, Kinesis to name a few. This solidified my understanding and preparation for these topics and gave a little confidence boost.
And finally about AWS DVA-C01 Exam Readiness course offered by AWS Training – I chanced upon this course when I was going through the Tutorials Dojo cheatsheet and it was a blessing in disguise!
This course was prepared by the panel of AWS who explained in detail about the 5 sections in which the exam will test and in each section it covered a couple of sample questions, and where more than the answering the question – they explained how to attempt the question and how to look for "keywords" which help in filtering down the options. A real must watch course and it takes just 2 hours!
By this time, I just had 1 day in my hand and on this day I blindly searched for any mock exam or practice questions on the internet and tried solving them. It was a risk, because if I couldn't solve the question it builds up the stress. Somehow I managed to contain my nervousness and kept saying to myself "You can, You will."
The day has finally come…
On the d-day: which is a Tuesday, I scheduled the exam in the afternoon and all the morning I was on my normal office work. This helps me in driving my mind away from the exam tension.
My slot was on 3:30 PM and I opted for Pearson Vue online exam, so I just got into my room and cleared all the things according to the exam requirements (no computers, closed room and so on). I got a proctor allocated by 3:40 PM and after the initial process and verification was done, I started my exam at 4:00 PM.
I sat through all the exam till 6:00 PM, reviewing the questions again and again and ensuring that I marked all the questions with answers best to my knowledge.
One simple tip here – If you think there are more than one option that does the job and one option is the simplest among the lot then pick that as your answer. If the option is too complicated or costs too much to implement, then its not the answer.
Once the time was over the exam screen took me to the feedback and after completing it, I was shown a message that my result would be sent to my mail. I read somewhere that we'd receive the result in anytime within 24 hours, so my exam tension turned into anxiety and I was just refreshing my mailbox most of that night. The next day I had to go to office, but my mind was still on the results. And at 3:00 PM, I got the mail and you already know how I felt.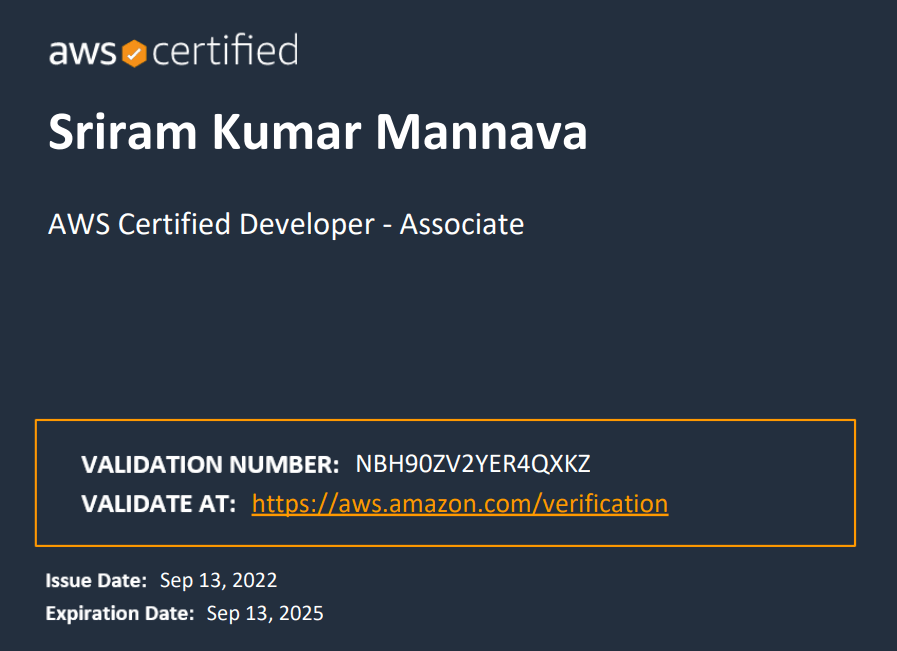 Conclusion
That's all I have to say about my exam experience and my thoughts about the certification. I'm sure this is a very interesting and valuable certificate that adds a good weight to your resume. More than that, it helps you learn the concepts of cloud more seriously and that is a great thing in general!
So, what do you think? Are you going to take up the exam? Do let me know your thoughts below!